At Technical Translations we believe that the way we manage our business is a little different, and those little differences add up to a big plus when it comes to how we and our clients feel about our work.  When we founded the business we didn't want to have a regular office with regular office hours, a hellish commute and environmentally damaging transport.  From the outset we looked at the best way to do things, not just the accepted way to do things.  While everyone needs to earn a living, we try to do so in a way that costs the least in terms of resources and by looking out for everyone in our supply chain.  Simple stuff like paying our suppliers on time and paying a fair price for their work.
Technical Translations are very proud of the fact that our business supports our local community, and in a very practical way.  Because everyone in our team works flexibly, we have the freedom to combine our paid work with voluntary work in our local area.  One of our senior project managers provides temporary foster care for abandoned animals and our finance director is a trained Community First Responder, on call to respond to medical emergencies while she balances the books and makes sure our suppliers are paid on time!
Not many finance professionals get to save lives in the course of their working day!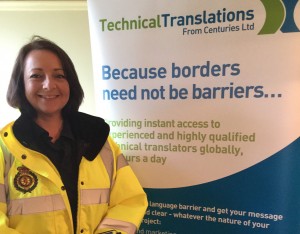 Putting quality of life at the top of our business objectives doesn't mean we lack what it takes to be successful, quite the reverse, we understand that happy people do better work, and our client feedback is proof of our ability to deliver a better service than our traditional competitors.  Importantly we think that our way of doing things is better for business and our clients agree.  The same technology that allows our team to work flexibly from home also means we can be there for our clients any time day or night when they need us, something which desperate clients on business trips to the other side of the world really appreciate!  Happy clients feed business success and we've made a profit every year since we started our business.  We continue to grow consistently both in numbers of translators and the number of regular clients we serve, and without the need for external investment.  We think that our business model is testimony to the fact that a business can be more successful if it puts people first.